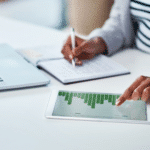 Government Shutdown Averted for Now
Buckingham Weekly Perspectives: Government Shutdown Averted for Now from Buckingham Wealth Partners on Vimeo.
Over the weekend, Congress passed legislation to enact a 45-day reprieve of any imminent government shutdown fears. However, this won't get us through the end of the year.
In this episode of Buckingham Weekly Perspectives, Head of Investment Research Jared Kizer explores the impact of a government shutdown from a political and historical perspective, the near- and long-term risks from an investment strategy perspective, and three ways investors can manage this risk.
Source: Vanguard
If you have any questions please feel free to drop us a note.
For informational and educational purposes only and should not be construed as specific investment, accounting, legal, or tax advice. Certain information is based on third party data and may become outdated or otherwise superseded without notice. Third party information is deemed to be reliable, but its accuracy and completeness cannot be guaranteed. The time frame chosen because of the dates of available data. The inception of the AIEQ ETF was 2017. Indices are not available for direct investment. Their performance does not reflect the expenses associated with the management of an actual portfolio nor do indices represent results of actual trading. Information from sources deemed reliable, but its accuracy cannot be guaranteed. Performance is historical and does not guarantee future results. All investments involve risk, including loss of principal. Neither the Securities and Exchange Commission (SEC) nor any other federal or state agency have approved, determined the accuracy, or confirmed the adequacy of this information.
Jared Kizer, CFA
Head of Investment Research
Jared Kizer evaluates findings from academic research and applies that learning to develop investment strategy recommendations. Jared collaborates daily with advisors and clients, helping investors better understand the complicated concepts that can have a tangible effect on their financial lives. Jared holds a master's degree in finance from Washington University in St. Louis.