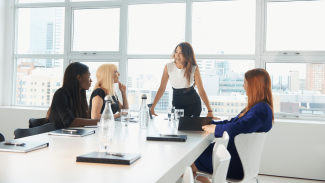 The Rise of the Female Breadwinner: Key Planning Tips and Considerations
Alyssum Malone
October 9, 2023
Over the past several decades, women have increasingly taken on the responsibility as their family's primary or sole breadwinner. This rising role has prompted a different approach to comprehensive financial guidance. Wealth Advisor Alyssum Malone, CFP®, BFA™ shares how partnering with a professional can help ensure your family's finances are protected for years to come, no matter what situation may arise.
For much of the past century, men have customarily been the breadwinner in most families. However, over a dynamic era of progress spanning the past several decades, the role of women as financial providers has significantly increased. In fact, it's becoming more common for women to be the primary or sole wealth contributor in their family. These powerful statistics illustrate this growing trend:
16% of married couples now have a woman who earns more than her spouse, up threefold from the 1970s, according to Pew Research.
In 40% of families with children under 18, the mother is the primary breadwinner, according to Pew Research.
As women currently outnumber men almost 3 to 2 on college campuses, the number of female breadwinners is likely to increase in the future, according to the National Student Clearinghouse.
The rising role of women as providers has prompted a different approach to comprehensive financial guidance. Utilizing the resources and experience of a financial professional is a great starting point to ensure long-term security for your whole family.
How can partnering with a wealth advisor help?
Managing finances is often a stressful and time-consuming task. Partnering with a financial planner takes more things off your to-do list. While getting time back in your busy schedule is invaluable, the peace of mind knowing your money is being managed by a professional is arguably one of the most valuable benefits of working with a wealth advisor. A recent study by the Life Insurance Marketing and Research Association (LIMRA) revealed that 40% of women respondents working with an advisor feel "very prepared" for retirement versus 27% of respondents without an advisor.
When one spouse is the sole or primary breadwinner for a family, certain financial planning considerations become even more important. These components should be top of mind in your overall financial plan:
Life insurance: While life insurance is essential for many families, it's even more important for families when most or all of their income stems from one person. If you are considering adding or increasing life insurance for yourself or another family member, ask yourself these questions:
Would your family be financially sound if the worst were to happen?
Does the spouse earning less also need protection?
If you have children, would your spouse's Social Security survivor's benefit be enough to cover childcare?
What about other things your spouse currently takes care of? Would you need to hire a house cleaner or begin paying for laundry service to replace the things a stay-at-home spouse does around the house?
An advisor can help you navigate these conversations to make sure you have adequate coverage in place.
Disability insurance: How would your family manage if you were to become disabled and unable to work? Your spouse may find employment but may be unable to bring in a similar income as you were making. This is where disability insurance kicks in. Keep in mind this income protection insurance typically does not replace 100% of your salary, so working with an advisor to make sure your family will be able to cover expenses is very important.
Emergency savings: I cannot emphasize this enough – any family or couple relying on a sole income needs a larger emergency fund. If you lose your job, you need to ensure you have liquid savings in place while you search for another. A financial advisor can help you to determine the correct amount to ensure your bills will be covered.
Goal planning and prioritization: Single-income families typically make less overall than dual-income families, which can make cash flow tighter and therefore potentially lower the rate of savings. Collaborating with a financial advisor can help to assure you're on track to meet your short- and long-term goals or make the changes necessary to get there.
Tax planning: Working with a professional who understands your tax and income situation can help your family minimize liabilities whenever possible and make sure you are taking advantage of tax-efficient savings strategies.
Executive and stock compensation planning: Top-tier managers and key employees may be eligible for executive and stock compensation incentives. This can lead to a substantial increase in income. While this can be exciting and rewarding, it can also lead to more financial decisions. An advisor can help ensure you're taking advantage of these benefits in a tax-efficient manner.
The above considerations are just a handful of ways a financial advisor can help protect families who rely on a primary or sole provider. Please reach out to your advisor to discuss the best options for your situation.
For informational and educational purposes only and should not be construed as specific investment, accounting, legal, or tax advice. Certain information is based on third-party data and may become outdated or otherwise superseded without notice. Third-party information is deemed to be reliable, but its accuracy and completeness cannot be guaranteed. Individuals should speak with qualified financial professional based on their circumstances. Neither the Securities and Exchange Commission (SEC) nor any other federal or state agency have approved, determined the accuracy, or confirmed the adequacy of this article. R-23-6103
Alyssum Malone
Alyssum Malone, CFP®, BFA™ is a wealth advisor in Buckingham's Colorado Springs office. She works with clients across the country and specializes in helping high-income families navigate their financial lives. Alyssum enjoys getting to know each client personally, making sure their individual and financial goals align with their values. As a female breadwinner herself, she knows about the unique financial and personal challenges families with a sole provider face.